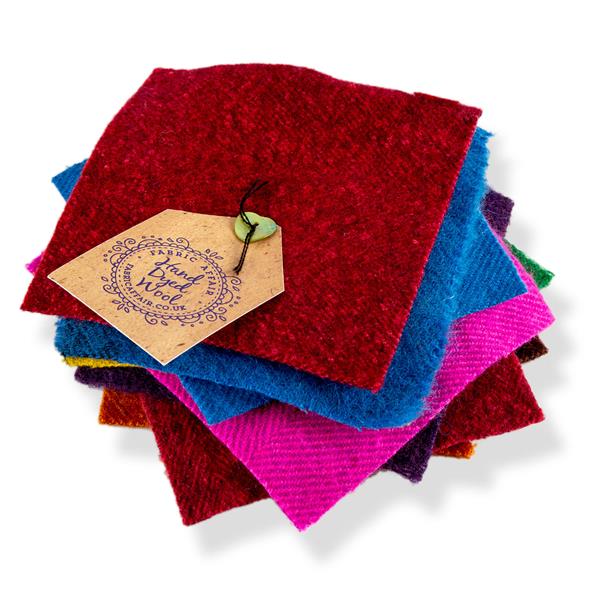 Fabric Affair Collection: Hand Dyed Pure Wool - 9 Pre -cut 5" Squares in 9 Colours
£16.00
Fabric Affair Collection: Hand Dyed Pure Wool - 9 Pre -cut 5" Squares in 9 Colours.

We have been hand dying our own collection of wool fabric for over 12 months now, and the demand is steadily increasing, so we are very pleased to offer this new collection. We are hand dying in our own workroom in Donegal, and dying in small batches to create something unique and special. We start the process using best quality tweed from McNutts of Donegal, and then over dye to achieve brighter and non-traditional tweed colours. The tweed used is a variety of textures, weaves and wool (lambs wool, merino) so we achieve a fabulous range of colours each time we dye. No two dye runs are identical, which is a feature of the finished product, and after dying we wash and dry the tweed to ensure that it is colour fast and ready to use. To achieve the beautiful colours all the tweed is boiled, so it is felted ready to use for all your applique or felting projects.

Product contents:

Each collection contains 9 pieces of 5" squares in a variety of different colours

Features and Benefits:

• Each collection is unique

• All the tweeds have been boiled, so the tweed is felted

• Less fray, easy to use

• Bright colour fast colours

• Washed and ready to use

Price £16.00 plus p&p.